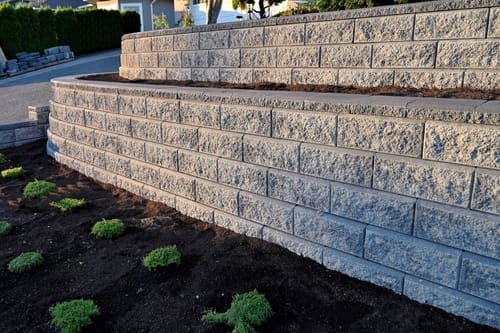 What Are The Benefits Of Retaining Walls?
There are many benefits to installing retaining walls on your property. They can add a lot to your curb appeal, help you manage stormwater runoff, and prevent sinkholes. The most important benefit is that they can prevent soil erosion. Soil erosion causes weakened foundations and can lead to expensive repairs!
Soil Erosion
Soil erosion can be devastating to your landscaping and a major drain on your finances. Erosion is caused by a variety of factors, such as rainfall, windy weather, and over-watered lawns. A retaining wall can prevent soil erosion on sloped properties by holding the soil in place and preventing it from sliding down the hillside. This can help protect your property from damage and increase its value by adding a curb appeal that will make your property stand out from the rest.
Flooding
Retaining walls are a natural way to prevent flooding and increase property value. They can also be used to convert a slope into a flat level area, making it possible to build structures on a hillside that otherwise would not be viable. Flooding is a serious problem in many areas, especially along the coast. It is often caused by heavy rains or high tides and storms. These conditions are becoming more common as climate change continues to cause higher seas and new weather patterns. Retaining walls can prevent flooding by holding back soil behind them, keeping water from building up after a rainstorm. This can greatly reduce the chances of flooding.
Creates Even Ground
Retaining walls provide a solid base for any garden or patio space. They also make it easier to plant and maintain your yard. A retaining wall can be built from a variety of materials and can complement any style of home. For example, a natural stone wall can create a rustic feel while a concrete wall can increase the value of your property. Before building a retaining wall, it's important to level the ground. This will help ensure that the bottom row of retaining wall blocks will rest evenly and level.
Adds Aesthetic Value
A retaining wall can add aesthetic value to your landscape and increase the property value of your home. It can be designed with a variety of materials, such as stone or concrete, to complement the overall look of your property. If you are planning to sell your house, a beautiful retaining wall can improve the appeal of your home. Interested in getting a retaining wall of your own? Be sure to contact our hardscaping professionals here at A&S Outdoors to learn more about what we can do for your property!